Wednesday, 03/21/18
by admin on 20 Mar, 2018 - 0 comments
Jomo CrossFit – CrossFit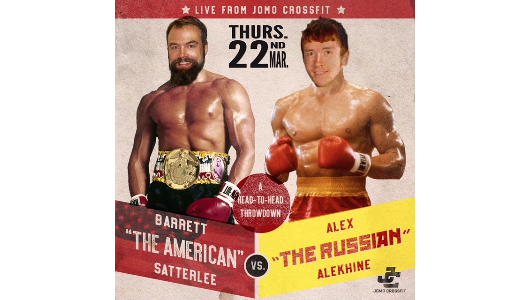 This Thursday following the 18.5 announcement we will have a showdown that has been almost 6 years in the making. Hours of trash talk, thousands of text messages, and countless "your mom" jokes will be settled! Please join us for the watch party!!!!!!!
A: Metcon (Time)
5 Rounds for time:
12 F Rack Lunges (95/65)
12 Toes 2 Bar
RX+ (135/95)
B: Front Squat: (3×12)
Complete 3×12 across based on how you feel.
Set 1=Moderate
Set 2=Laboring
Set 3=Maybe Fail
Keep the intensity high, shorter rests between sets.